Trusted Source for a Local Dumpster Rental Northampton PA
When you have trash to get rid of, turn to GMS Environmental for a local dumpster rental Northampton PA can rely on. Our company is the one of the most trusted in the local area whether you're a homeowner or business owner looking for a dumpster rental in Northampton. No project is too big or too small, that's for sure. You can use our dumpsters in Northampton PA for any project that requires trash and debris removal. You call, we haul!

For years, the residents in and around Northampton, Pennsylvania know they can rely on us for their Northampton PA dumpster services. Our team has been helping the good people clean out their homes, local contractors with material waste disposal, heavy construction sites with unwanted trash or debris, and many other applications. At the end of the day, every project will have an ample amount of trash to get rid of, but we have the perfect solution. Our trucks will deliver you a bright green quality dumpster rental Northampton PA folks have come to count on for every project they have.

It's a simple transaction here with GMS. Just browse our options below and choose which one of our dumpster rental Northampton PA will suit your needs. If you need any help along the way or planning, just give us call. We have the dumpsters Northampton PA to accommodate everyone's trash removal needs.
We Take Just About Everything
Some examples of the junk we haul away include
Refrigerator Disposal

Garbage Removal

Mattress Disposal

Foreclosure Clean Outs
Construction Waste Removal

Yard Waste Removal

Trash Removal

Appliance Removal
Television Disposal & Recycling

Furniture Removal

E-Waste Disposal

Hot Tub Disposal
All Kinds of Uses for a Roll Off Dumpster Rental in Northampton PA
Don't let waste containment slow down your project, better yet, use a roll off dumpster rental in Northampton PA. We tend to think of the "work smarter not harder" phrase when you have a roll off container Northampton PA on your site from dumpster rental Northampton PA.

We have a range of size options to choose from, and our team is here to help in picking the roll off dumpster rental in Northampton PA that best suit your project. Here you can expect to find the following size roll off dumpster Northampton PA: 10-, 15-, 20-, 30-, and 40-yard options.

We can handle the waste from any project from a homeowners' garage cleanout and yard debris removal to the contractor remodeling an apartment building and so much more. Examples of a few of the uses for a roll off dumpster rental Northampton PA below.
Residential Dumpster Rental Northampton
As a homeowner, there are so many instances where you can use a smaller version geared more towards a residential dumpster rental Northampton. We have options that are a great solution for those daunting tasks around the house you've been waiting to tackle. For the kitchen remodel you finally saved the money for, you'll need to haul away the old fixtures. The attic that has filled with everyone's unwanted and unused items, get the trash hauled away and repurpose the space. Tear down that old shed that takes away from your home's appearance. If you have never rented a residential dumpster rental Northampton PA before, no problem, the team at GMS will ask about your project and steer you toward the container that will provide the proper and safe containment you need for your home project.

Call or go online today and let dumpster rental Northampton help you make your home project as efficient as possible.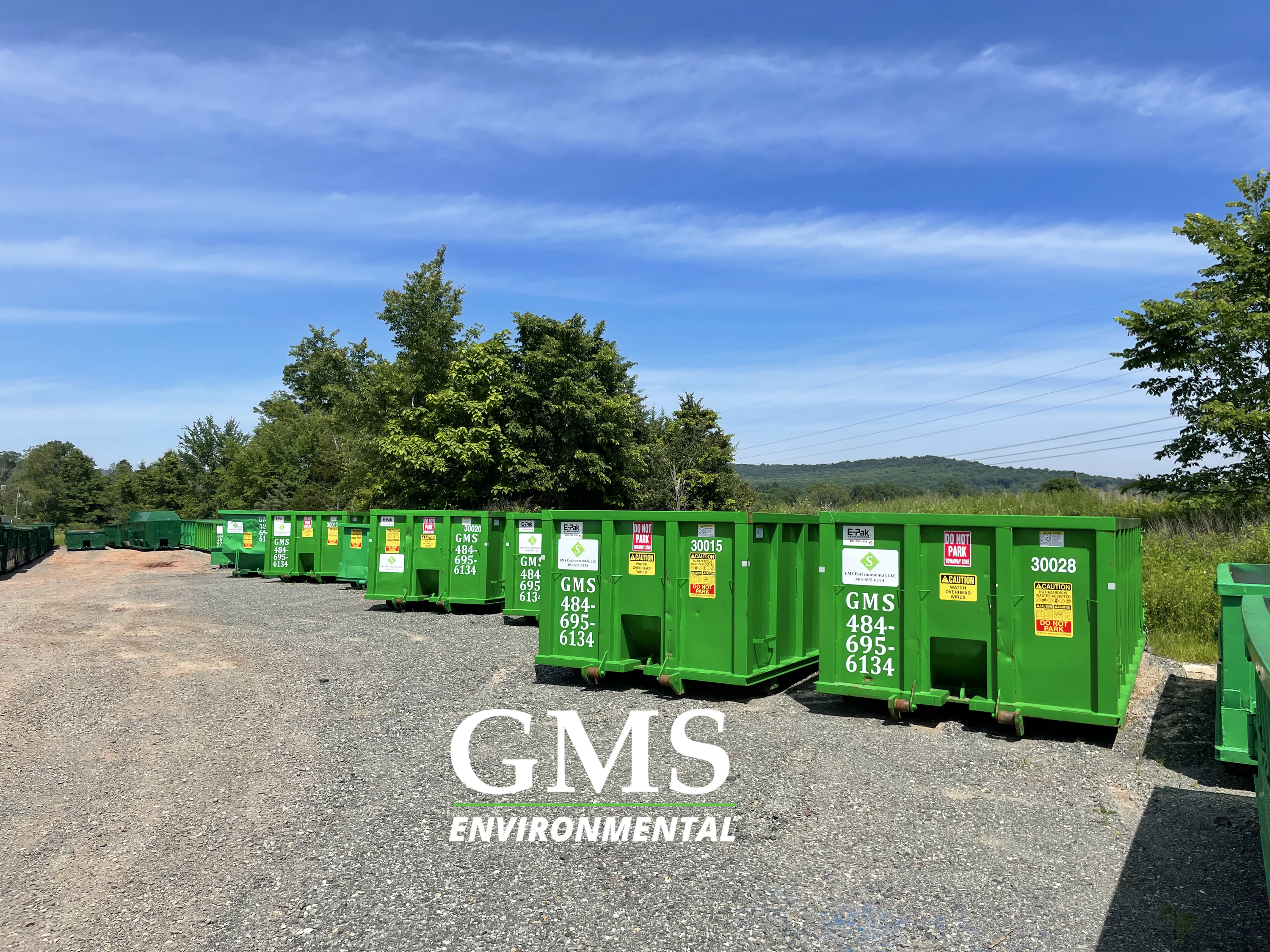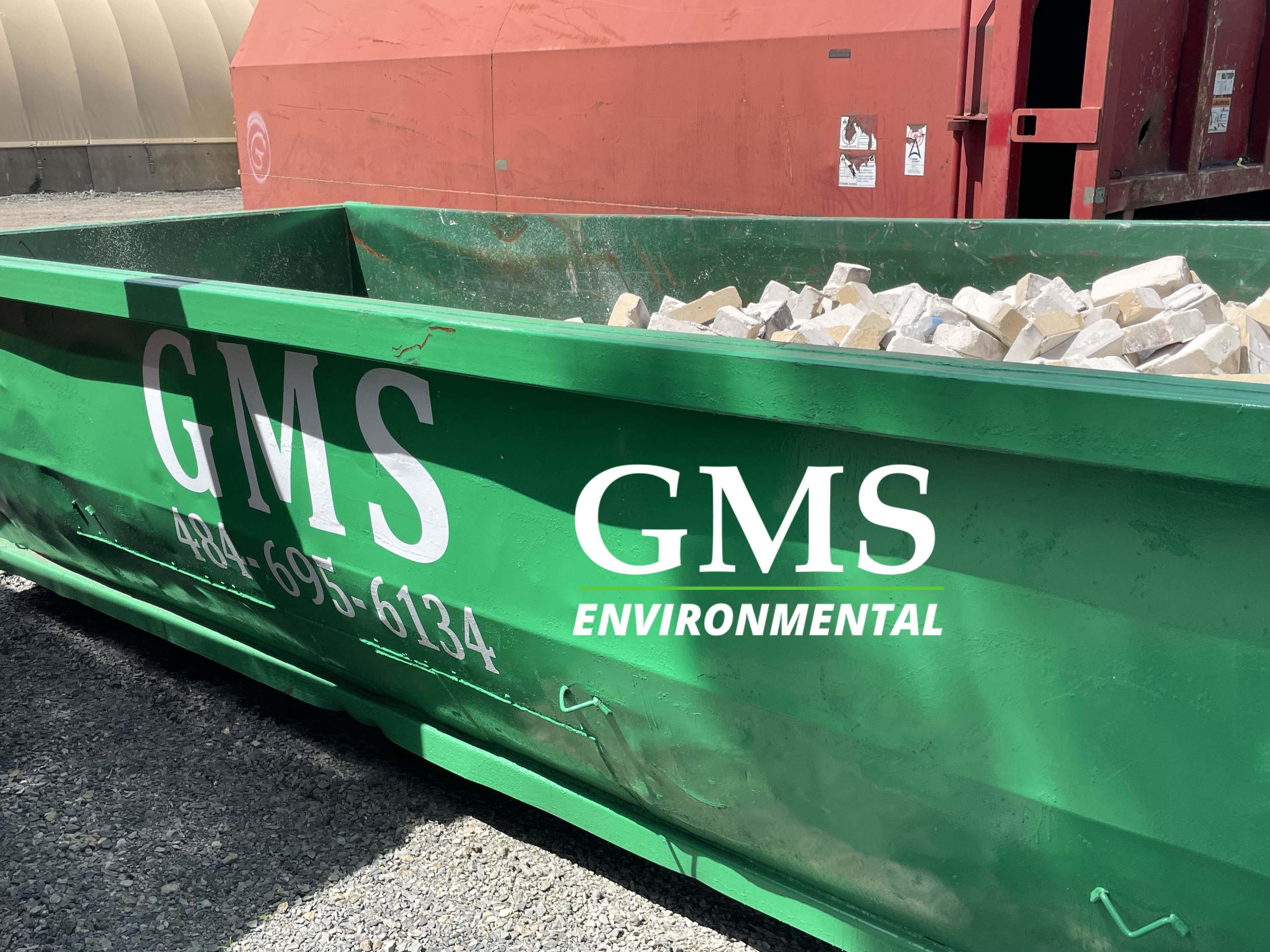 Yard Waste and Trash Dumpster Rental in Northampton
We have the perfect trash dumpster rental in Northampton that homeowners love for their yard work. Yard debris can really pile up when you have branches, brush, and leaves from trees. Clean out that garden shed, do the landscaping project, and get the gardening done. Be confident that you have the means to have it all hauled away with our trash dumpster rental in Northampton.

Chances are your trashman won't take your yard debris, so do the smart thing our homeowners do and give us a call today to book a 20 yard dumpster rental Northampton or equivalent!
Construction Roll Off Dumpster Rental Northampton
Contractors who use us for their construction roll off dumpster rental Northampton know that they are invaluable to the job. GMS Environmental offers a variety of sizes to accommodate residential and commercial construction applications.

We have large roll off dumpsters in Northampton PA that are very popular with roofers and general contractors alike. We have the best options to contain different discarded materials, from small projects to heavy construction. Just fill the container with debris, and we will do the rest. We are the best option when you need waste containment. See why so many general contractors use us for their roll off dumpster rental Northampton PA.


Roofing Roll Off Dumpster Rental in Northampton
Our local roofers love our roofing roll off dumpster rental in Northampton for their projects. We are there go to for debris containment on every job site. Having a quality roofing dumpster delivered to the job site on time, every time is key to our outstanding reputation. When a roofing job calls for a roll off dumpster rental in Northampton, be assured our team will get the container there on time so there are no delays in your work schedule. Giving us the placement requirements ahead of time will ensure our driver places the bin right where you need it.
Commercial Dumpster for Business Northampton
All the local business owners know when they need a dumpster for business Northampton, we are the top pick! We have the sizes to accommodate any commercial or industrial type needs for a dumpster for a business in Northampton.
Commercial waste disposal projects such as cleanouts, rental unit remodels, and much more need the reliable options that we offer. Whether you need a one-time or short-term dumpster rental or an ongoing long-term solution we cater to your business needs. Even offering same day deliveries on dumpsters, Northampton, PA businesses utilize often for those last-minute needs. Reach out to our team today to discuss our options to help your business grow.
Demolition Dumpster Northampton PA
Do you need a dumpster Northampton PA for a demolition project? No Problem! We have the solution to your large dumpster rentals in Northampton PA needs. We have the heavy-duty containers the contractors demand for their debris. Rely on us for the heavy construction, large-scale projects, debris containment, and removal needs. They are great for large scale cleanouts of industrial applications whilst getting a garbage dumpster rental Northampton PA comes in handy.
Why Choose Us for an Northampton Dumpster Rental?
You have a choice when it comes to an Northampton dumpster rental. While we are one of many, remember that selecting the company with the best track record is essential to having a stress-free experience. There is a reason why we are one of the most sought out dumpster rental companies in Northampton PA. Browse around to see the best Northampton dumspter rental prices!
We are the dumpster rental company in Northampton you can rely on for any form of dumpster rentals Northampton, no matter whether the project is big or small. We provide only the highest quality, heavy-duty constructed options. Our rentals will get the job done right without worrying about leaking containers or rear gates that are impossible to open or stay closed, potentially causing a hazardous situation. The one thing that should never come into play is the cost of dumpster Northampton, PA because you can't put a price on perfection. That is exactly what our team delivers from the initial phone call to after your service is completed.
While we may be the place for a cheap dumpster rental Northampton PA, we sure do have some affordable dumpster rental prices in Northampton PA with lots of happy customers to prove it. Our team is here to help with the decision of size so that you have the correct dumpster for the project without the worry of too little space or too much. We take all aspects of our job seriously from start to finish, from initial order placement to our courteous drivers hauling away your debris leaving you as another satisfied, and surely a repeat customer. Choose right for your next Northampton dumpster rental by renting from us.
Sizes to Choose from for Your Local Dumpster Rental in Northampton PA
At GMS Environmental we have the size option for anyone needing a local dumpster rental in Northampton Pennsylvania.
Choosing from the 10, 15, 20, 30 and 40 yard roll off dumpster Northampton PA depends on the scope and size of your project.
10 yard: will accommodate the small household cleanout, garage, and attic
15 yard: will be used by homeowners for their yard debris etc.
20 yard: is great for the larger household who is moving or doing a remodel
30 yard: is used by many contractors, roofers for a one day job
40 yard: is often the go-to for the heavyweights in the construction industry who have ongoing dumpster rental Northampton waste containment needs.
Keep in mind that every size is suited to its project size or needs in the amount of tonnage in waste it may have. Be sure to check out our dumpster rental prices Northampton PA customers can count on because everything is in black and white. No hidden fees. We clearly state all of the additional costs for additional days or weight that may be exceeded from the standard rental which is typically 14 days and a certain tonnage that is included. Be sure to contact us with any questions to avoid any conflicts beforehand.
How to Rent a Roll Off Dumpster Northampton
Looking to rent a roll off dumpster Northampton? Our team makes it a stress-free process, ensuring your complete customer satisfaction. We are ready now to take your order so that we can deliver what you need to your yard or construction site. Call us at (484) 695-6134 or order online right on our website here and schedule delivery (remember to give us all information our driver needs for correct delivery).
Either way, we are here to answer any questions that come up when renting a roll off dumpsters in Northampton PA. We are committed to providing on-time deliveries at an affordable rate to any customer in Lehigh County. Reliable customer service is our strength!
Servicing All of Dumpster Rental Near Me Northampton
Looking for a dumpster rental near me Northampton? Good news because here at GMS Environmental, we're proud to service not only all of Northampton PA and Lehigh County, but all the neighboring cities and communities nearby. We deliver to the following zip codes in Northampton; 18101, 18102, 18103, 18104, 18106, and 18109. We also cover the following cities: Allentown, Lehigh, Bethlehem, Northampton, Center Valley, Easton, Emmaus, Hellertown, Palm, Quakertown, Berks, Montgomery. You can count on us for dumpsters near me Northampton PA at homes, businesses, schools, churches, construction sites, industrial locations, plants, parks, commercial buildings, and anywhere else that needs the best dumpster rental services in Northampton PA.
Don't see your zip code or city listed? Reach out to one of our friendly customer service reps and we'll let you know if we cover your area for dumpster rentals near me in Northampton!
FAQs When Looking to Rent a Dumpster Northampton PA
When looking around to rent a dumpster Northampton PA and realize there are many things that should be thought of before booking one. Well, we have come to realize it can be stressful for some and that is why we have a guaranteed hassle-free experience. Every customer needs to feel fully informed and confident in the rental process. Here are a few questions we have often received, but please call us with anything further, our team will be happy to help!
1. I need to rent a dumpster Northampton but can I afford it?
We offer budget prices and flexible rental terms to service all customers.

2. How much weight can I put in the roll off container?
Our website shows the amount of tonnage recommended for each size container

3. What if I run out of room before I have completed my job?
Give us a call right away and we will dispatch a driver to your location to swap out the filled bin with another one.
Local Customers are Raving About Our Roll Off Dumpsters Northampton Loves
We like to think of ourselves as the local experts when it comes to roll off dumpsters Northampton loves, and our hundreds of 5-star reviews prove it! Our awesome customers are satisfied with our quality dependable service, time and time again. They know they can trust us for their waste management needs time and time again. With being a locally family owned and operated company in the area, there's no surprise we get it right the first time, every time! Browse around and see all the reviews to prove why we are the top-rated company for a dumpster rental Northampton PA.

"GMS was recommended to us by the auctioneer we were using to clean out my in-laws house. Gabby was extremely responsive and helped us so much in arranging the drop off and pickups of two dumpsters during the clean out. We were so happy with their services that we used them for our own personal construction debris removal that we had from the renovations of two rental properties. GMS is a very reliable, competitive, and quality business that has helped us both personally and professionally. We are in the Lehigh Valley and found several sources outside of our area, but will continue to use GMS for any dumpster/clean out needs we have." -K. Piper

"Use this company for all of dumpster rentals because they are the pros! They are responsive in answering our questions on what size we need for our office needs which change a lot. The driver is so nice and attentive to what we need when we need it. Don't know what we would do without GMS at our company handling our dumpsters." -T. Goslin

"I am definitely going to be a repeat customer, high quality service at affordable prices! The team really hit a home run for our rental" -J. Perry